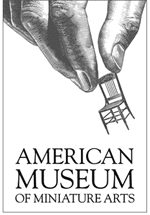 Mayfest 25
Texas 2005
The MAGIC
of Miniatures
May 10-15, 2005
Start planning NOW!







Latest News
As of 01/20/2005
—————–
Mayfest 2005
—————–
AMmA SmallTalk Newsletter
Museum Information
—————–
Hall of State
at Fair Park
EXHIBIT HOURS
Tue-Sat – 9a-5p
Sun – 1p-5p
Need Directions?
Click HERE or
call 214-421-4500
Admission is FREE
Please come visit!
—————–
Volunteer docents
are needed! Call
Charlie Russ
972-239-7013

WELCOME!
The American Museum of miniature Arts is a non-profit museum with much of its collection currently on display in the Sharp Gallery at the Hall of State – Fair Park, located in Dallas, Texas. The museum exhibits are available for viewing Tuesday-Saturday, 9:00 AM to 5:00 PM and Sundays, 1:00 PM to 5:00 PM (Closed Mondays). For driving directions, please call 214-421-4500, or click here to see a map. Look for our exhibits at three other locations in the Dallas area, too – in the lobby areas at Children's Medical Center-Dallas, (which also features a wonderfully detailed model train layout with multiple levels of tracks); at the Dallas Public Library; and at the Dallas Fireman's Museum.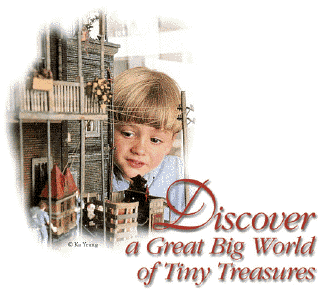 MISSION STATEMENT

The museum's mission is to create a unique educational, cultural, and entertainment experience for adults and children of all ages through the presentation of the miniature art forms in a dynamic and interactive museum environment. Founded in the mid-1980s, the museum is a result of hundreds of hours of volunteer and fund-raising efforts by a group of Dallas-Ft. Worth metroplex men and women committed to this cause.
WHERE DID MINIATURES GET THEIR START?
The world in miniature has been reproduced since the time of the Pharaohs, when small artifacts of daily life were placed in the tombs of Egyptian kings to make their journey to the afterlife both familiar and comfortable. The first dollhouse is credited to German royalty, who fashioned a house in miniature as a teaching tool for the young women in the home. English "baby houses" were actually large cabinets, again replicating the world of the eighteenth and nineteenth centuries.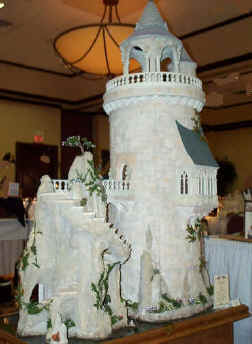 ABOUT THE AMmA

The American Museum of Miniature Arts (originally known as the Dollhouse Museum of the Southwest) evolved as collections of both miniatures and dollhouses became available through donations, loans, and purchases. A late 19th century bungalow on Routh Street became its home, and an exemplary volunteer effort followed, providing maintenance, docents, public relations, and membership drives – all by volunteers from the Dallas/Ft. Worth metroplex area and beyond. Today's museum membership stands at over 300, from across Texas and the United States.
THE AMmA COLLECTION & EXHIBITS

We have a unique permanent collection, consisting of dollhouses and miniatures, dolls, and antique toys as well as private collections on loan to the museum and traveling exhibits featuring nationally and world renowned artisans. More than a showcase, the museum's exhibits are designed to reinforce an appreciation for craftsmanship, design, lifestyles and other cultural aspects. It is a place full of dreams and imagination.
See the historically authentic miniature houses depicting various styles. Visit a captain's coastal Victorian home with furnishings by regional professional designers created in miniature. Explore miniature garden scenes and discover lifestyles from a previous era in the 16th century French armory. The miniatures look absolutely real. The scissors can cut paper, the clocks can be wound, and the musical instruments can be played.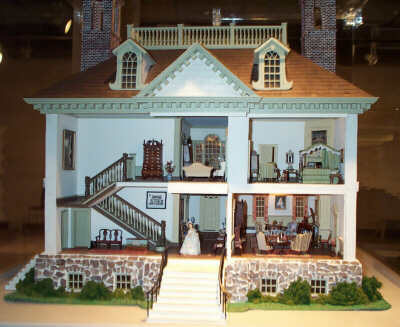 MUSEUM MEMBERSHIP

Members of the American Museum of miniature Arts receive unlimited admission to all exhibits, priority registration to museum workshops, and a free subscription to our newsletter. Certain memberships also receive tickets to the Preview Party at the annual Miniature Mayfest.